April Sunday 16th. Café Amblers: A trip to the Coast! Coffee tea and chips
A Trip to the Coast.
9.30am Meet Dobbies Garden Centre Car Park Ponteland A696
10.00am depart via Kirkley to Morpeth and on to Longframlington.
11,00am Arrive Felton for Coffee stop at the Running Fox Café
11.30am Depart for Amble then head South via Widdrington Station, Morpeth, and Bedlington.
12.30pm /1.00pm Arrive Blyth Coastline Fish and Chip Shop
60 Miles distance 2 hours Riding.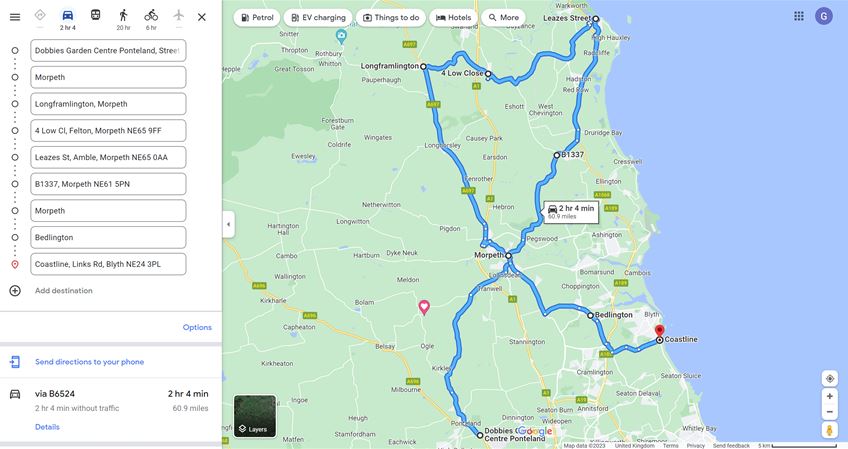 .
May Sunday 14th. Café Amblers: 'Tyne and Tyne Again'
Lunch at the Beresford Arms, Whalton.
The Beresford Arms is expecting us, they will be serving a full menu of Sunday Roasts, to Filled Beef rolls, to fish and chips and burgers
10.00am meet for 10.30am departure ALL Members meet Derwenthaugh Car Park. A694 (South of the Tyne)
11.30 am Stanhope Coffee Break
12.00pm Set off via Edmundbyers, Blanchland, Hexham.
1.00pm Riverside Café Chollerford NE46 4EW for brief stop & Coffee break
2.30pm Beresford Arms Whalton LUNCH stop and End of Run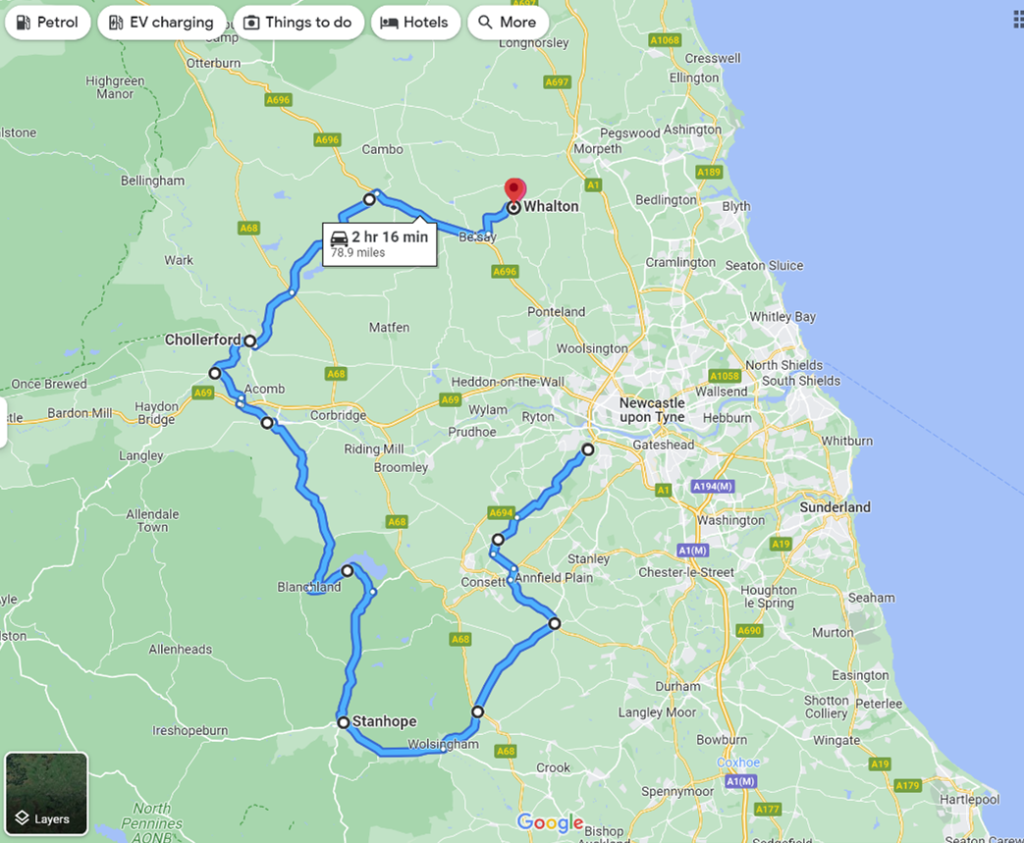 June Sunday 11th. Café Amblers: 'The Heart of Northumbria'
9.30am meet for 10am departure Northern members meet at Coffee trailer, Moorfield, Gosforth Town Moor
10.am meet for 10.30am departure Southern Members meet Derwenthaugh Car Park. A694 (South of the Tyne)
11.30 am Stanhope Coffee Break and bacon rolls
1.00pm short stop Allendale Town, Market Square
2.00pm Allensford Cafe at the Park, (A68/Consett) Coffee and cake
Total Route 83 miles
Cheers
Ged
July Weekend 8th/ 9th. Café Amblers Away: 'The Old Peculier Run'
Following last years success and back by popular demand, I am pleased to say that the 'Old Peculier Run' to Masham will be returning this year!
Travel: This is a Friday – Sunday event so we will be looking to travel down as a group during the day Friday, those wishing can obviously just join us after work in Masham on Friday evening.
Accommodation:
The Kings Head Hotel: Learning from past events we are recommending that we all stay at the Kings Head Hotel which is on the square in the centre of Masham, If you want to go your own way that's fine but please let me know.
Booking: Rooms to be booked individually. I have managed to negotiate a discount code of 10% on the room rate with full cancellation and this also gives a 20% off voucher for food. Use Discount Code: FRIENDS10 and book at: https://www.chefandbrewer.com/pubs/north-yorkshire/kings-head any problems with this then phone central booking on 0345 608 6040 and they will apply the discount.
Other Accommodation: There are numerous cottages that can be rented as well as a nearby campsite that also has cabins and shepherd huts. The Bay Horse Inn also has a few rooms.
Evening Meals: Once I have numbers I will organise with the Kings Head a group booking for Friday and Saturday night. The hotel has a good bar and restaurant for food and drinks.
Brewery Tour: I am also investigating the potential for organising a brewery tour at Theakston's if there is sufficient interest and subject to availability.
I will issue full and final details of the weekend once numbers have been confirmed, as such can you please email me at from the link below or Gedtell2@aol.com if you are:
• planning to come along
• when you have booked your accommodation at the Kings Head or other.
• and if interested in a brewery tour.
Any questions then just drop Ged an email, link below.
Happy Ambling!!
August Sunday 13th. Café Amblers: 'Border Raid'
A quick hop over the border to Jedburgh, Kelso and Coldstream. Slightly longer ride than usual but with plenty stops, and some great roads and scenery it has all the makings of a classic Ambler trip. Please note we have a new start point for both Southern and Northern Members.
9.30am meet for 10am start. Dobbies Garden Centre Ponteland A696.
Coming from Newcastle, Dobbies is on the second roundabout after Newcastle airport. I would suggest that people take the opportunity to pop into the Shell services on the Airport roundabout to fill your tank. The garage also has a Costa and Greggs for those wishing for a coffee and bacon roll. But be aware it has a strict 30 minute waiting rule unless you purchase at Costa which gives you an hour.
10.00am Depart Dobbies
10.50am Arr Carter Bar. Quick stop for 10 minutes to admire the view of the English/Scottish Border. Dep 11.00am
11.15am arr Jedburgh. 20/30 minute stop at Abbey Bridge Car park for coffee and admire the view of Jedburgh Abbey. Dep 12.15
12.45pm Arrive Kelso. (Via St Boswells) Lunch stop in Kelso. Park up in the square, plenty of cafes or Greggs to grab a bite to eat and watch the world and other bikes go by in the historic market town. Dep 1.30
2.15pm arr Wooler. Ice cream at the Milk bar! and fuel stop for those requiring it. Dep 2.45
3.30pm arr Ridley Arms Stannington, Ride Ends
3 hrs Riding, 129 miles
See you there.
Link to route below.
September Sunday 10th. Café Amblers: 'All Roads lead to Rome'
10am for 10.30am depart: Meet Dobbie's Garden Centre, A696. Coming from Newcastle it is on the second roundabout after the Airport roundabout. Those requiring fuel there is a Shell garage at the airport junction.
11.30am Chollerford. Quick stop at Riverside Cafe for a coffee. 12.00 depart
1.00pm Alston, Nook Café Alston A689. A great cafe with plenty parking. Please note this is the main stop on route for food, there will likely be too many of us for the main indoor area, however there is a hot filled roll selection available from the trailer. 1.45pm/2pm depart.
2.45/3pm Lanchester. The Kings Head. RIDE ENDS: They have a large car park and are expecting us for drinks. Those that want to eat will find they do a full Sunday menu.
Total Time Riding: 3 hours
Mileage: 102 miles.
Happy Ambling
Ged